Create a Fresh Black Eye with MakeUp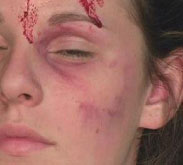 Supplies Used:
Foam Sponge Wedge
Angle Brush
Bruise Wheel
The skin around the eyes are thin so they bruise easily.
Use the purple and red makeup for a fresh bruise, and the greens and yellows for an older bruise.
With an angle brush apply a little blue makeup right close to the eye where the skin is thinnest. Smooth this out with a sponge wedge.
In a real black eye the blood pools around the bottom of the eye, so brush right under the eye with a little of the blue and blend it in. Taking a maroon color out of the bruise wheel apply this in the corner of the eye, in and above the top lid crease, under the eye and below where the cheek bone starts. Blend in with a sponge wedge.
To give the effect of a hit on the cheek bone, take a small amount of maroon color on a flat brush and sweep the color outward in small strokes. Blending it down with a sponge wedge. Leave the skin above the cheek with no makeup, or add a little white, or very little yellow to give it a more swollen look.
Disclaimer: FX Warehouse Inc. will not be responsible for use of misuse of any products you may buy or use from us. Most of our products are for Professional Use only. Use at your own risk.