Making a Plaster Mold of the Clay Hand
Part 2: How To Make Molds for Body Parts
You'll need a mold made in Ultra-Cal 30 of this clay hand, in order to make your finished piece in latex. Here's how we did it.
Materials Used:
Moulage
W.E.D Clay
Ultra-Cal 30 Plaster
Klean Klay
Mixing container for the Plaster
Cheap Pot for the Moulage
Chip Brushs
Small Cheap Artist Brush
Rasp
Vaseline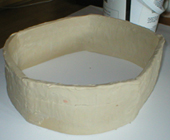 We started on a piece of formica. Splitting the small blocks of klean klay into strips I made a wall a little bigger than the hand. You can use W.E.D. clay or any other wet clay for this, but I didn't have time to do it all in one evening and didn't want the wall to dry up and crack like the water based clays do.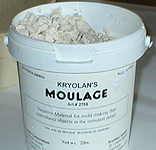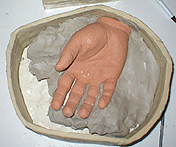 I like to use Moulage as a base. You don't have to, you can just use the W.E.D. or any other water based clay. Moulage is an impression material used for lifecasting. It's melted down and applied when slightly warm and sets up to make an impression. But using it as a base I find it keeps the bottom of my clay piece undisturbed and I'm assured that it is not damaged by anything such as clay that might leave marks or an impression in my clay hand. If you wish to use a waterbased clay such as the W.E.D. just make an inch or 2 base for the hand to lay on. I melted the Moulage in a pot on low heat and when it was not too hot (you don't want to remelt the clay hand) I poured it into the bottom of my clay walls. I then placed the hand on the Moulage. Making sure you place the wrist as the wall of clay. You'll need this part free so when the mold is complete there will be an opening to pour in the latex.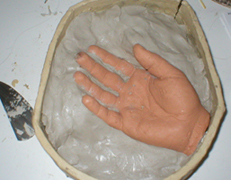 You'll need to build up a wall of waterbased clay around the hand to mark it in half. You'll be making a 2 part mold, and the only way to get the first half is to divide your piece in half. You'll notice our hand is a bit rounded. If you want an easier piece to mold we suggest you cast a flatter hand and perhaps fingers together, so you won't have to build a wall of clay between the fingers as we will here. The waterbased clay will not stick to the oil clay you made your initial piece out of.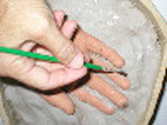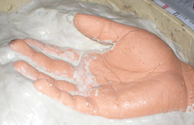 Using a small artist brush and some water smooth out the waterbased clay all around the fingers and surface. If the fingers are separated you'll have to build up the wall of waterbased clay half way up and smooth it out as well. If the end piece (wrist) is not totally up against clay then fill in this area to assure that no plaster will go there and cover up your opening.
A note here... And something we didn't do when making our mold. You might want to add some keys now. Keys are made of clay, maybe square or look like a half of a small ball. In the past I've used superballs cut in half. Place these on 2 or 3 spot on the clay wall. When your mold is finished these 'keys' will fit into each other and you'll be sure that your mold goes together correctly. We didn't key here (sometimes I'm lazy), but I also knew that my mold would a little higher on one side than the other so fitting the 2 pieces together correctly wouldn't be a problem.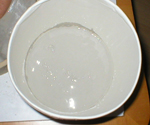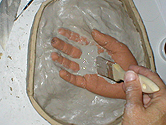 Mix up a small batch of Ultra-Cal 30 plaster for your first half of the mold. I used 6oz of water and slowly add in the same volume of plaster. You'll know when to stop adding plaster when it looks like a dry river bed on top, then mix it thoroughly until creamy. Using a chip brush apply your splash coat, or first layer of plaster mix. This first layer will ensure no air bubbles and that all surfaces will be coated correctly. Slowly building up layer upon layer. The plaster will start to set up in about 30 minutes, but you'll have used all the plaster up in a shorted time than that. You'll probably need a second batch for this one side.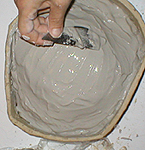 Mix up another batch of Ultra-Cal, just like you did with the first and build up the mold. I like to round mine out a bit for easier handling later, but you can make it more of a block if you wish. You might need a 3rd batch depending on your piece. I like a smooth mold so when the plaster is starting to set up I use a flexible palette to smooth it out. A little piece of hemp rolled up in a ball works great also.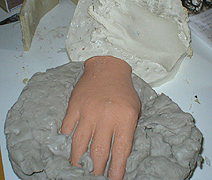 When the plaster starts heating up and then cools down you'll know it's set. Some people would pull the mold now, but I always wait an hour or so. If you pull the mold too soon you will weaken the plaster and you won't be able to use the mold as often as you could if you just let it set up longer. Optimum time is 7 days.. but who has that kind of time. When it's time take down the clay walls and slowly pull the Moulage or clay away from the bottom. Clean off all the clay and get it ready for the 2nd half of your mold.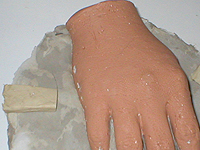 I cut a couple pieces of klean klay and placed them on the plaster. These will make a space between the molds so I can put a screwdriver in and pry the pieces open after I've made my 2nd half.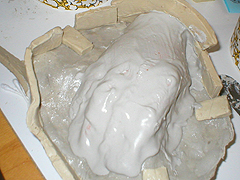 Also using the klean klay (you can use waterbased clay if you wish) I put up small wall around my piece to keep this next layer of plaster from dripping over the side. Using a cue tip or chip brush apply a layer of vaseline over the exposed cured plaster, this will keep the 2nd half of the mold from sticking to the first. I made up a small batch of plaster and did a splash coat over the hand, like I did when making my first half.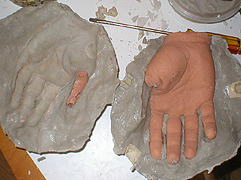 Build up this half of the mold with a 2nd or 3rd batch of plaster if needed, smooth out an allow to cure. As before, don't pull the mold apart too soon. When it is fully cured place a screw drive on both sides of the mold and slowly pry it apart. You now have a 2 part mold. Clean out the clay. Place your piece together to see how they fit and with a rasp, when the mold is closed, smooth down the sides of the mold.
This is the end of Making a 2 Part Mold. Our next How-To will show you how to pour in the latex, cold foam and make the finished cut off body part.
Disclaimer: FX Warehouse Inc. will not be responsible for use of misuse of any products you may buy or use from us. Most of our products are for Professional Use only. Use at your own risk.