Return Policy
Due to the nature of our products, ALL SALES ARE FINAL : No Refunds and we cannot accept any return merchandise.
If, for any reason, you do not accept your package and it's returned to us, we'll reship for the cost of shipping again. Or we'll charge a 25% restocking fee plus shipping and refund the balance.
No Claims will be accepted after 30 days of date of purchase.
---
Shipping Information
We cannot ship to PO or APO Boxes. We can only ship to a street address.
Your order will be processed within 2 days of receiving it. Most orders are processed and shipped same day. If any items are back ordered, you will be notified and the backorder sent out ASAP.
We ship world wide. We ship out orders strictly UPS. Overnight, 2nd Day, 3 Day and Ground shipping are available. Call for prices on shipping or you can place your order on our website, put in your shipping info and Before you pay our website will generate shipping costs and options.
Important UPS Shipping Information
Be advised that UPS does not ship or deliver on the weekends. UPS Ships only Monday thru Friday, Saturday and Sunday are NOT Regular shipping days. If you order something on Friday and it takes 2 days to get to you, you'll receive it on Tuesday, not Sunday.
UPS does not deliver on Saturday or Sunday, unless specified Saturday delivery is requested, which can only be shipped Friday Overnight. Saturday shipping is available only on Friday and it needs to be Red Labeled. There is also an additional $25.00 Saturday delivery fee. Please contact us by email or phone if you need that service.
Please note: Orders placed on Friday or on the weekend and request an express shipping such as 2nd Day that order will not go out until Monday. Please plan accordingly.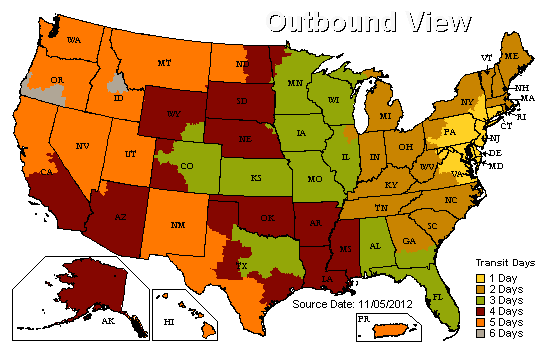 Service Map colors may vary due to differences in hardware and software. This map is a general representation of UPS Ground transit times.
Please inspect your package as soon as you receive it. If you are missing an item check your invoice to see if it is on backorder. If it isn't contact us immediately and save all packaging. It is possible we missed an item in shipping or UPS has damaged your package, re-boxed it and sent it on to you.
Parcel Post - Economy Shipping
If you have time and your order is under 10 lbs in weight we can ship parcel post. Our website is not set up to process this kind of shipment. If you would like a quote or process your order using the post office please contact sales@fxwarehouse.info with your name, address and complete order, including colors and sizes. We'll work up a quote within 48 hours and if you accept this option we can send you a paypal invoice. The post office picks up only 2 times a week. Note: Since it's not as reliable as UPS, which is our preferred way to ship, and if lost or damaged it can take up to 6 months to finish tracers and claims.
International & Overseas Shipping
Please be sure, before you order, that your country allows the kind of materials you are about to order, imported into your country. If, for any reason your country refuses to let you take your order you will forfeit your shipping and cost of merchandise, as we at FX Warehouse will have to pay to have it returned to us. Usually it is so expensive that we will tell UPS to abandon it. No refunds or replacements will be sent if this happens.
Note Re: Independent International Shippers (3rd Party shippers)
We have experienced difficulties lately when our international customers choose to ship their order to International shippers within the United States and then have them ship that package to them overseas. There have been packages lost, damaged and even the product taken out of the package and shipped on to you, the customer. Who then contacts us to fix this problem.
FX Warehouse ships direct to most countries. We discourage customers from using 3rd party shippers. Order at your own risk if you pick this option. If your order arrives damaged or if it is lost FX Warehouse will not be held responsible. FX Warehouse does, however, cover damages or losses if shipped direct to you without a 3rd party shipper. We will not refund or replace any merchandise you receive through a 3rd party.
Custom Fees
Your order will probably be charged customs fees (taxes, duties, processing fees, brokerage fees, etc.) when it arrives. Unfortunately, FX Warehouse has no control over these fees. If you are not familiar with the customs fees in your country, please check with your local customs office for more information. Also, because we are a retail store, we are NOT able to mark orders as 'Gifts' for customers to avoid paying these fees.
The shipping charges you pay to FX Warehouse do NOT include customs fees, import taxes, brokerage fees, or duties. If you refuse to pay the customs fees when your order arrives, the shipment will be returned to FX Warehouse and we will be charged the customs fees plus return shipping costs. Therefore, we do not issue refunds for customs fees, shipping, or the cost of your order if you refuse to pay the customs fees. And, if the order is refused by you and returned we will charge you those return fees plus 25% restocking fee, plus the shipping fees already paid to ship product to you initially.
FX Warehouse has no way of estimating customs fees, taxes, duties, etc. so please do not ask us to do so - we don't have this information. Please contact your local customs office if you need to know more.
It is possible that the delivery of your order could be delayed due to customs processing. If your order does not arrive in a reasonable amount of time, you should check with your local customs office to see if they are holding the package for payment of fees. Also, some customs offices will send a separate invoice for your customs fees that could arrive several weeks after you receive your shipment. Please be familiar with the customs laws in your country before you order!
Winter Shipping
Latex products can freeze and ruin in winter months. We suggest you have them shipped at least 2nd day air. We've had great luck in shipping latex products in the winter. Please take note that you order at your own risk during freezing weather. Any questions on shipping please call us at 215-423-5300 or email us at makeuporder@fxwarehouse.info.
---
Disclaimer
Our products are intended for use by Professional Artists. Please read all instructions and MSD sheets before you use them. FX Warehouse Inc. will not be held liable for missuse or side effects of any of the products we sell.