by www.FXWarehouse.com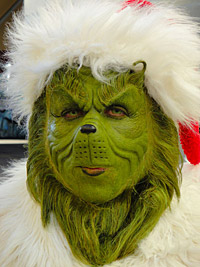 Grinch Pro Application Kit includes:
1oz Pros-Aide Adhesive
1 Powder Puff
1 Translucent Powder
1oz Grinch PAX Paint
2 RMG Highlight & Shading Makeup
1 pair gloves
Latex Sponge Wedges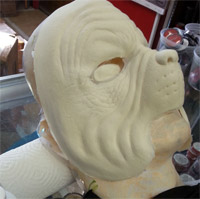 We put our prosthetic on a plastic face to give it shape and support it.
I put a small amount of Pros-aide in a 2oz plastic cup to make it easier to use. I used a sponge wedge, which I pulled off the very tip of to give it more surface area to pick up the Pros-aide. Dipping it in the adhesive I then applied a layer to the whole prosthetic. And then taking a powder puff I dipped it in and applied translucent powder on top of the Pros-aide to help seal it. This step makes applying the PAX easier.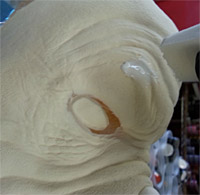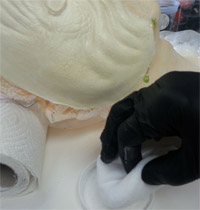 I don't skimp on the powder. And I also like to use a Powder Brush to brush off the excess. (Powder Brush is not included in our kit)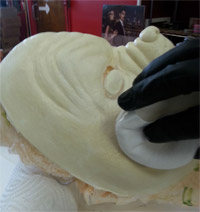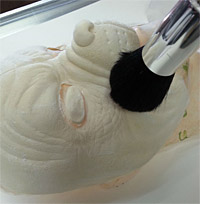 I like to 'warm' my pieces before I use my main paint. Warming helps the other paint pop, giving it dept.
Using Thom Surprenant's Autumn Leaves PAX paint with a sponge wedge cover the piece. And then powder to set.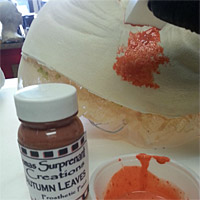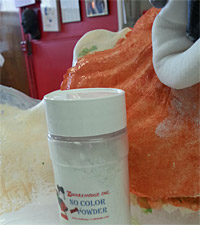 Pour a little Grinch Green PAX into a cup and apply as you did the other PAX. As you can see from the photos, this will not give you the coverage you want yet. Powder as before.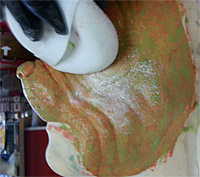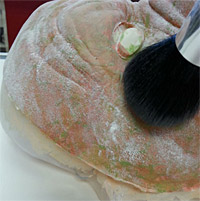 Apply another layer of Grinch Green PAX. And Powder as before.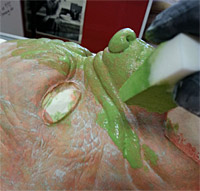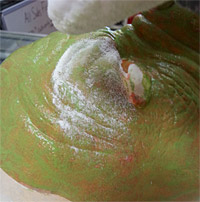 1 more layer of Grinch Green PAX, so that made 3 layers. Each project is different so how many layers you do is up to you. Then powdered once more to set.
Shading:
I used Rubber Mask Grease (RMG) paint. This is a dark green. Put a little alcohol in a cup. I smeared some RMG onto a paper palette. Dipped the brush into the alcohol and then put into the RMG to thin it, making it easier to apply. You don't want to thin it too much, you don't want it to be watery. You can use it without the alcohol but I like it a little thinner so I can blend it into the main color easier.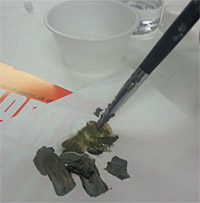 If you want to use the RMG without alcohol to start the shading and then blend it out later by adding alcohol directly to the RMG on the piece that works as well.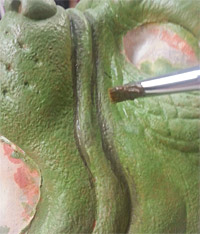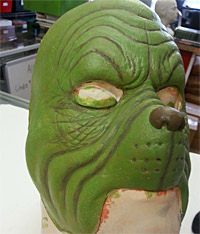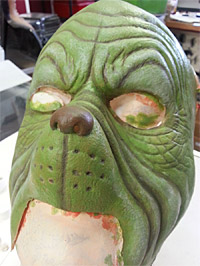 Next put in some highlights to help give the piece more depth. Again, using the alcohol to thin the RMG apply the light above eye crease and on top of cheek folds.
Powder the whole pieces to get rid of shine and set makeup.
Applying Eyebrows:
Carefully, from the back of the material cut out eyebrows from the fur piece in the kit. Always cut out bigger than you need and then trim before you glue them to the prosthetic.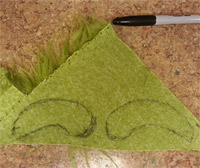 Apply a thin layer of Pros-Aide to the eyebrow location. Let dry for a few minutes and it will become tacky.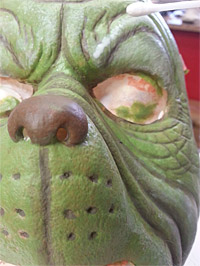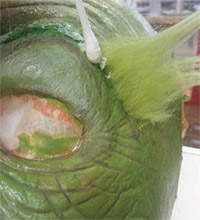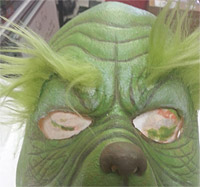 That's it! You're done. Powder and keep in a plastic ziplock bag away from light until you're ready to use. Or better to leave on a form piece if you can to help it keep it's shape.